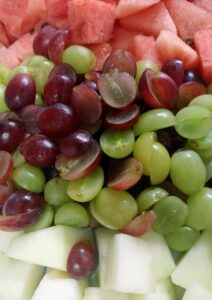 School dinners are cooked on the premises with fresh ingredients and the food is sourced locally.
With the support of the Catering Team at Essex County Council, child friendly menus are created and rotated on a three weekly basis. Each week, details of the following week's menu can be found in our newsletter to enable parents and children to make an informative choice.
Children in Foundation Stage and KS1 receive free school meals. For children in Key Stage 2 (years 3 to 6) dinners cost £2.50 per day and we would ask that your child's meals for the week are paid in advance via the Scopay website.
The school encourages healthy eating and requires that mid-morning snacks are a piece of fruit or are at least fruit/cereal-based. Under the Fruit and Vegetable Scheme, children in Foundation Stage and Key Stage 1 are provided with a piece of fresh fruit or vegetable.
If your child has a packed lunch could we kindly ask that you bear in mind our healthy eating policy. We would also like to remind all parents that we are a NUT FREE school. Please do not  send your child into school with any food or products which may contain nuts.
Menus
Week 1 Menu commences 18th September 2023
Week 2 Menu  commences 4th September 2023
Week 3 Menu commences 11th September 2023 …. and then back to Week 1
Please note that our menus are subject to change, so please refer to the weekly newsletter for the most accurate version of the following week's menu.